Find the information you need to find the community that's right for you and your family.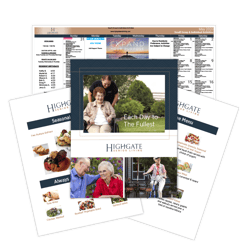 If you or a loved one is considering a move to a senior living community, you're probably wondering what it would be like to actually live in one. What is there to do? What does dining look like? What kind of support does a Highgate community offer? These are just a few questions you might have.
If you are wondering what life in a Highgate Senior Living Community is like, fill out this form and we will send you a free resource package that includes
Sample dining menus
Sample activities & recreation calendars
An e-brochure
After completing this form, we will send you our free resource package, and a member of our team will follow-up with you to identify what additional resources might be helpful in learning more about our communities.
Ready to schedule a personal tour instead?
Visiting a community is the best way to learn what it offers and if it's the right choice for you and your family. On a personal visit to a Highgate community, you'll receive this information and much more. Click the button below to schedule a tour with a Highgate community near you.